Introduction
On Friday 24 March 2023, the Hub for Education for Refugees in Europe (HERE) held a webinar for members of the HERE Network and beyond to share information about a variety of refugee education projects taking place across Europe. The aim was to extend the critical conversations that were started at the Inaugural HERE Conference in 2022 and provide a space for teachers, practitioners, academics, researchers and other interested parties to come together to learn, discuss and make connections.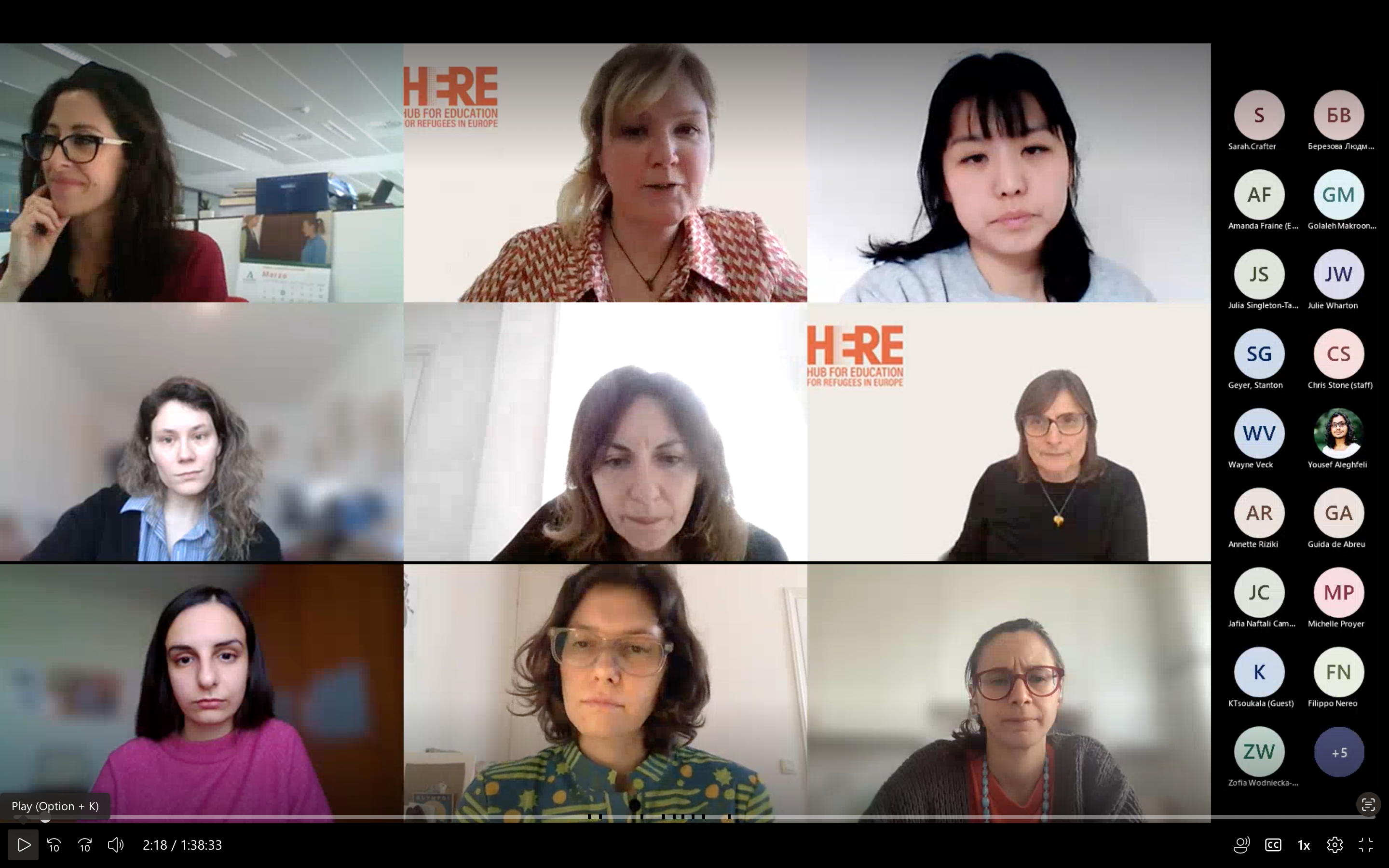 The online event included six lightning presentations:
NEW ABC (Networking the Educational World: Across Boundaries for Community building)
Nelli Stavropoulou (Open University); Eleni Stamou (Oxford Brookes University)
NEW ABC is a European Commission-funded project, which involves 9 pilot actions, focused on improving the educational lives of children and young people from refugee and migrant backgrounds. The UK has been delivering the 'Empowering Young Translators' activity-based intervention aimed at exploring young people's translating practices as a caring activity. The team will also be repiloting the 'Exploring Narratives of Migration through Storytelling: The Adventures of the Little Prince' piloting action, originally completed in Cyprus.
REFUGE-ED: Effective practices in education, mental health and psychosocial support for the integration of refugee children
Vanina Ninova (New Bulgarian University)
REFUGE-ED brings together two fields of expertise: education and mental health and psychosocial support (MHPSS) in humanitarian settings to improve academic achievement and the dynamic integration of migrant, refugee and asylum-seeking children. In close collaboration with children and families, communities, civil society organisations, local service providers, schools, and teaching staff – including school counsellors or other focal points focusing on MHPSS needs in the educational arena – and policymakers, the project will develop a catalogue of educational practises that can be scaled and adapted to fit specific contexts and needs.
University of Birmingham Sanctuary Hub Listening exercise
Koreana Ko (University of Birmingham)
At the University of Birmingham Sanctuary Hub (co-chairs: Dr Jennifer Allsopp and Dr Emily Rozier), we're conducting a listening exercise learning from experiences and perspectives of various stakeholders including students from a refugee/asylum seeker background and local charities to make positive changes in our refugee/asylum seeker support community at the University of Birmingham as well as to seek ways to work in collaboration with external stakeholders. We would like to share interim results of the listening exercise.
A Day Like This: developing rail confidence among newly arrived families from Syria
Julia Singleton- Tasker (Heart of England Community Rail Partnership)
In October 2022, we worked with Highly Sprung to deliver A Day Like This, engaging with newly arrived families from Syria to develop their rail confidence and familiarise them with the railway network. Following a series of workshops based in the Community Hub at Coventry Station, we took the group out on a day trip, where they were able to try different activities and use cameras to document their day out on the rails. Two weeks later, we held a mini exhibition at Coventry Station, showcasing their photos, talking about the project and showing the video of the day.
Wellbeing of refugee and migrant adolescents in Danish and English schools
Aimee Kelley (Ghent University, CESSMIR)
Comprised of qualitative data gathered from interviews and focus groups, the project focuses on the perspectives of school staff and newly-arrived secondary students as to the role of teachers and schools in supporting wellbeing of this population — specifically, how wellbeing is conceptualised and implemented in school settings in these two European countries.
Good practices and challenges in refugee education: the case of Skaramagas Refugee Hospitality Centre in Greece
Viktoria Prekate; Nektaria Palaiologou (Hellenic Open University)
Skaramagas Refugee Hospitality Centre operated in the outskirts of Athens from 2016-2021, with a hosting capacity of 3000 beneficiaries, mostly from Syria, Afghanistan and Congo. All children aged 6-14 were eligible for enrolment in local state schools, where special accelerated Greek language classes were established and bus transportation was provided free of charge. However, certain student sub-groups presented high dropout rates. This study examines the characteristics of these groups and the reasons behind dropout.
Each presentation brought forth compelling approaches in trying to tackle various issues relating to refugee education, from viewing young people's translating practices through the lens of them being a caring activity to engagement with newly arrived families from Syria to develop their rail confidence and familiarise them with the railway network in the UK. Presentations were followed by opportunities for all participants to discuss aspects of what they had heard in small randomly selected breakout groups that changed every ten minutes. This provoked the development of interesting conversations to provide participants with jumping off points from which to continue them independently where they felt connections were beneficial and mutual interests could be nurtured.
A common theme that emerged from multiple discussions was a desire to discuss ethics at greater length when trying to undertake worthwhile, open and egalitarian research around refugee education projects. This is likely to be a theme that re-emerges in similar webinars being organised in the future – all of which will be reported as HERE Insights.